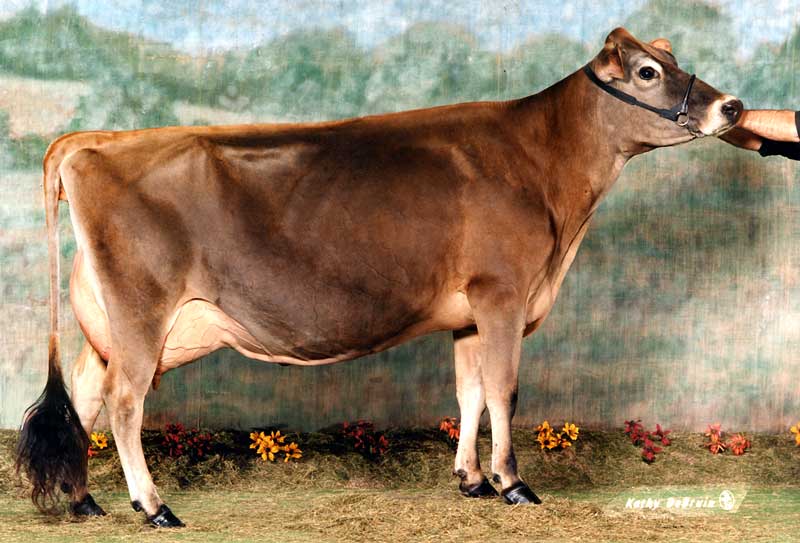 Matriarch: Norval Acres Pitino Constance
E-95%
6-7 305 23,420 5.2% 1,217 3.9% 917
Lifetime to Date: 127,269M, 6,456F and 4,970P in 2,055 days
1st 75,000M Class, WI Spring Show, 2007
10th Aged Cow, Protein Award, All American, 2006
3rd Sr. 3-Year-Old, All American, 2002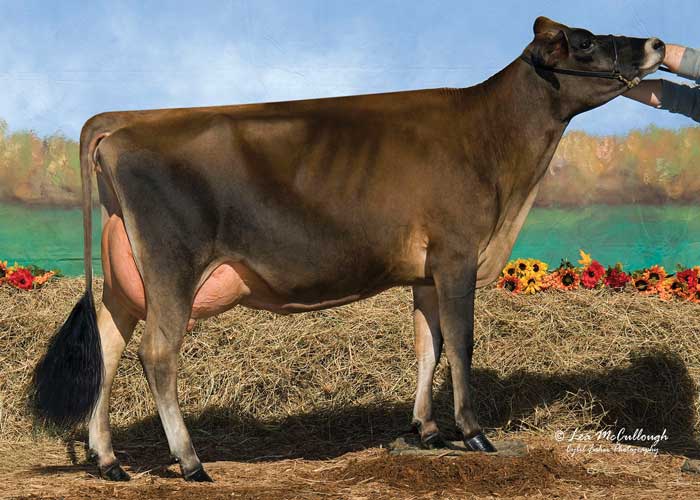 Daughter: Ratliff Jade Chelsea-ET
E-92%
5-5 305 20,330 5.4% 1,093 3.6% 742
3rd Sr. 2-Year-Old, WI Spring Show, 2011
7th Sr. Yearling in Milk, All American, 2010
8th Sr. Yearling in Milk, Central National, 2010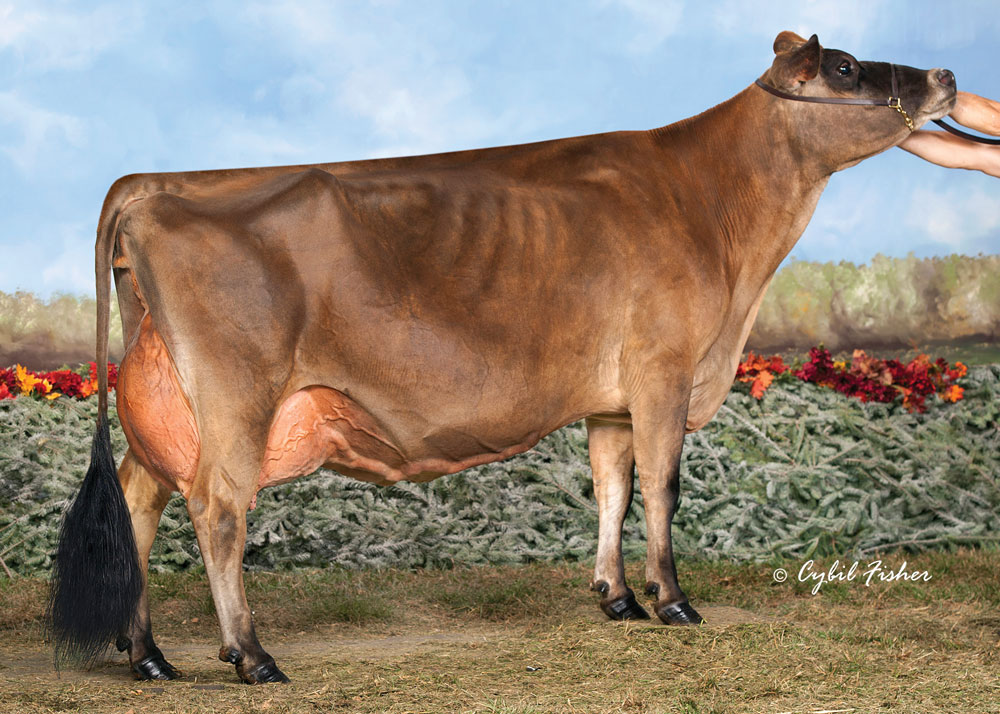 Daughter:
Ratliff Jade Candace-ET
E-95%
6-9 305 23,540 5.5% 1,285 3.7% 879
2nd 100,000M Cow and BBO, International Jersey Show, 2012
Nominated All-American 100,000M Cow, ABA
1st Aged Cow and BU, WI Spring Show, 2011
4th 100,000M Cow and BBO, Central National, 2011
3rd Aged Cow, WI Spring Show, 2009
2nd Aged Cow, Southern National, 2009
2nd Aged Cow, Southern National, 2008
Grand Champion, KS State Fair, 2007
3rd 5-Year-Old and Genetic Award, Central National, 2007
6th 5-Year-Old, All American, 2007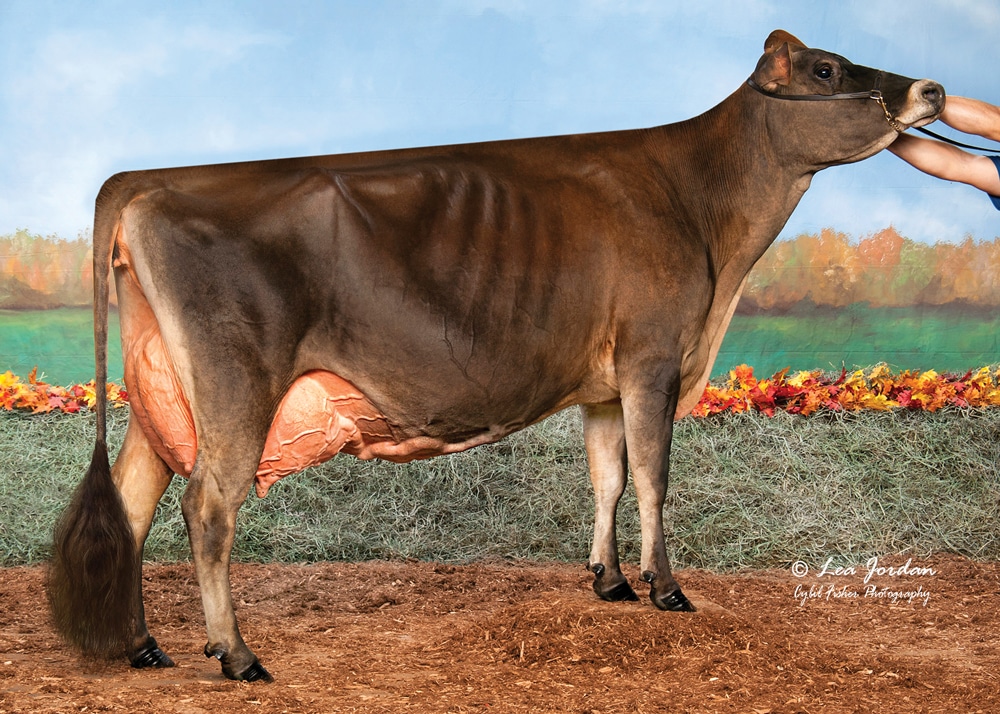 Candace's Daughter:
Ratliff Indiana Cadence-ET
E-93%
3-02 305 20,010 4.7% 941 3.6% 724
5th 5-Year-Old, All American, 2019
Res. Grand Champion, KS State Fair, 2019
5th Sr. 3-Year-Old, All American 2018
3rd Sr. 2-Year-Old, All American, 2017
5th Sr. 2-Year-Old, International Show, 2017
Ratliff King Snickers
E-93%
3-9 305 18,640 5.7% 1,065 3.9% 719
1st Sr. 2-Year-Old and BBO, WI Spring Show, 2010
1st Sr. 2-Year-Old, KS State Fair, 2010
7th Sr. 2-Year-Old, All American, 2010
Jr. Champion, 1st Sr. Yearling, KS State Fair, 2009
Jr. Champion, 1st Sr. Yearling, KS State Fair Jr. Show, 2009
Jr. Champion, 1st Sr. Yearling, WI Spring Show, 2009
Jr. Champion, 1st Sr. Yearling, Southern National, 2009
Jr. Champion, 1st Sr. Yearling, Southern National Jr. Show, 2009
Reserve All American Senior Heifer Calf, 2008
2008 Reserve Junior All American Senior Heifer Calf
Jr. Champion, 1st Sr. Calf, KS State Fair
1st Sr. Calf, Central National, 2008
2nd Sr. Calf, Southern National, 2008
Snickers is sired by Ratliff F Prize King-ET (First Prize x Karmel). She is a fifth-generation Excellent and the only daughter of Ratliff Jade Sahara-ET, E-90%, with 21,400M, 1,038F and 758P at 3-8.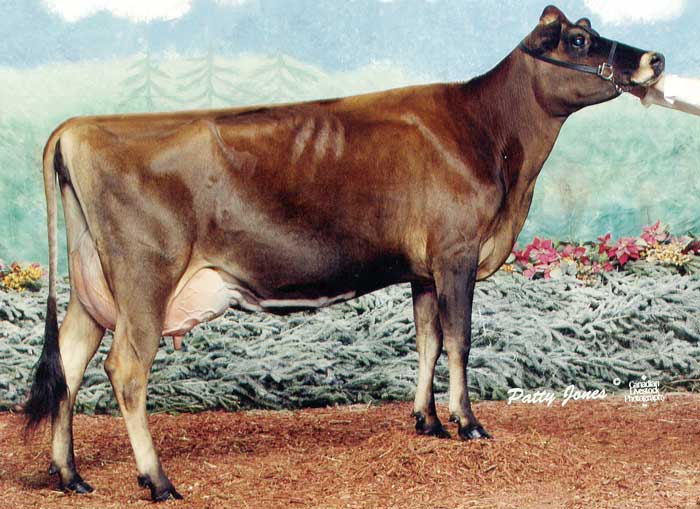 Snicker's Grandam: Ronada Ren Sopha
E-94%
2002 Reserve All-Canadian Junior Three-Year-Old
2nd Jr. 3-Year-Old, Royal Winter Fair, 2002
3rd Jr. 3-Year-Old, Central National, 2002
Sopha is backed by two Excellent dams in Canada.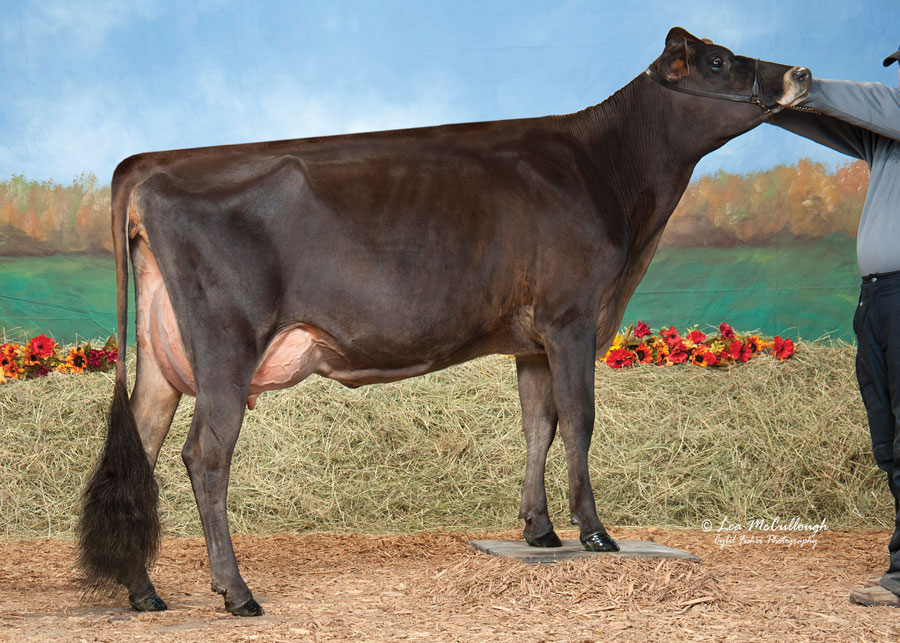 Sopha's Granddaughter: Ratliff Tequila Shotglass-ET
E-94%
3-4 305 22,880 6.0% 1,370 3.4% 770
3rd Milking Yearling, All American, 2013
8th Milking Yearling, International Jersey Show, 2013